Spotify Social
PARSONS MPSTEAM PROJECT
How can we promote more connectivity between users, through sharing and discovering music?
By interviewing Spotify users we found that they value their friends opinion and many use Spotify for the feature of being able to connect with friends, however the mobile app doesn't give them the level of connectivity they wish for.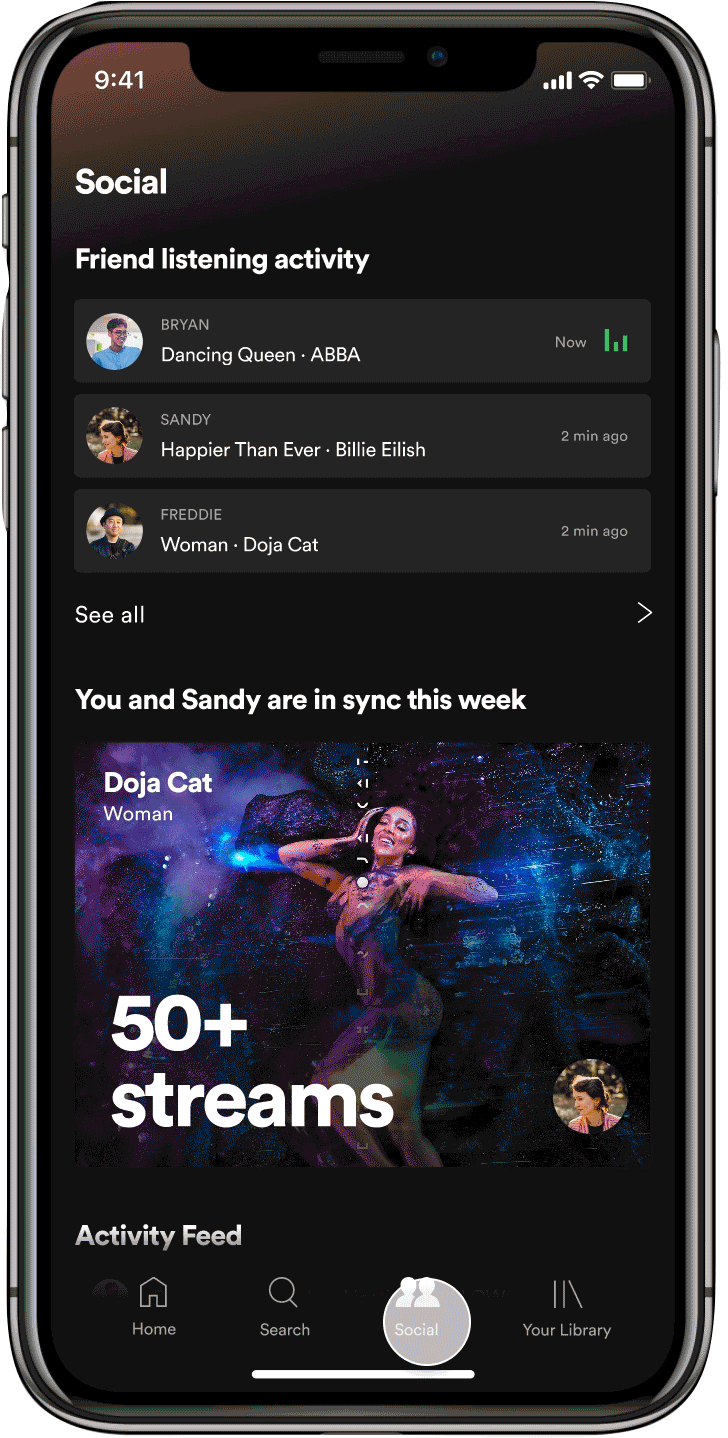 Solution

As a solution we translated some of the existing features of the desktop app into mobile, as well as further expand features like Blend, to give users a new way of sharing playlists with friends.
My role

As a group project involving 3 people, my main role was to create a design system matching Spotify's existing brand, and quality assess the final high fidelity frames, as well as being a part of all steps of the design process.
Research
Going into this project we defined Spotify's 'Jobs to be done' and looked at potential areas of opportunity. This led us to come up with ideas of exploring the platform's potential to facilitate real-life connections, either between users or between artists and fans.

However when we went into interviewing users, we found that they did not see Spotify as a facilitator of real life events, and the willingness to participate was low. Instead, users expressed the need for a better social connection feature within the mobile app itself.
Ideation

With these insights we started generating ideas for different ways of sharing the music experience.
In the end we came up with 3 main solutions

Friends activity in social hub
In the nav bar users can access the new social hub where they will see their friends listening activity (feature translated to mobile from desktop app) along with other fun streaming activity numbers, and songs recommended by friends.
Shared Songs playlist on profile
When users recommend songs with their friends within the app, the songs will automatically be added to a playlist that can be accessed on the friends profile.
Commenting on songs in the 'now playing' screen
When listening to a song, users can scroll down and open a pop-op of their friends comments, as well as seeing who listened to the song.
Reflections

Our initial ambitions for an offline social experience seemed forced since our exploratory interviews revealed insights opposite to our expectations. We realized that most of the pain points and wishes our interviewees expressed revolved around having more social interactions inside of the Spotify app.

People value their friends' taste in music and like to know what their friends are listening to in order to discover new music. Spotify is already an app that focuses on connectivity between users, and some users even choose Spotify for that very reason. Having more social features built into the mobile app will help foster community online, but can also be a conversation starter in real life as well, making music as well as Spotify a topic of conversation.

However, if a feature like this would be implemented in any way, it is important to first test and see how the feature could clash with users that have no interest in using spotify socially. A potential solution could be to give users the option to turn this feature on or off.