A. Foods
NOROFF UXINDIVIDUAL PROJECT

In Oslo, there are a lot of grocery stores run by 1st and 2nd generation immigrants, and these stores were especially struggling during the pandemic. Research showed that in order to limit the number of times they were in contact with others, people would go to bigger grocery markets to buy everything they needed, and took less trips to the local shop across the street. A lot of people were also getting their groceries online through apps instead.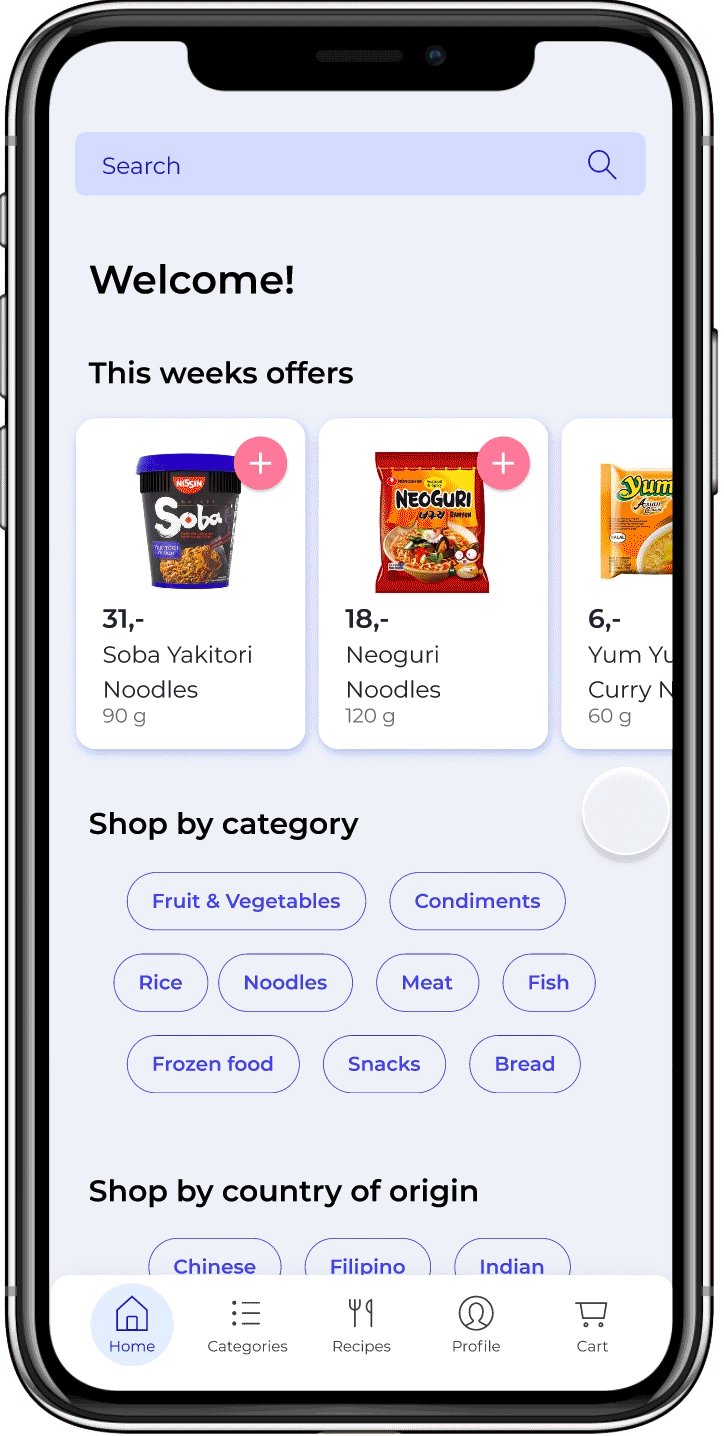 Solution
The customers lost to other stores, can be brought back by offering an online solution, and giving the option of buying contact-free. By doing this we can potentially make it more comfortable and easy for the customer to explore and order imported food as well. The solution focuses on product descriptions that are easy to read, and offering delivery and pick-up options that kept prices low, in accordance to user needs.
My role

As an individual project, I was responsible for all steps of the design proccess, from research to ideation, testing and visual deisgn.
---
Empathizing with the user
A survey run with participants in all age groups, revealed some of the attitudes and habits consumers hold when it comes to international food import stores. Cons that participants listed include: not having information about the products, not being able to find a price tag on items, and stores being too far from where they live. The pros consisted mainly of the variety that the stores offer, and items often being cheaper. The survey also probed them on online grocery shopping, to find pain points we can solve in that area as well.
Defining the product

For the next phase I narrowed down the scope of my project with the goal of creating a shopping app for an already existing store in downtown Oslo called A. Food Market.

I then did a competitive analysis of their competitors online, and looked at what they offered in terms of delivery, and other features. And used the MSCW method to figure out what features I should prioritize.
My primary persona was someone living outside of the city who are well-known with the products she needs from the store. I also had a secondary persona who as someone younger living in the city who wants to save money and prefer to pick up the groceries at the store. These people were inspired by the people who filled out the survey I did.

I defined the most important user task as finding a product and adding it to cart, with the user taking one of two possible paths. This is what I focused my prototype on, as well as the onboarding and the check-out flow.

Usability testing
I tested with 5 people in both older and younger age groups, based on my personas. The test was based on 3 tasks, signing up, finding a product and adding to cart, and checking out. The users navigated the prototype freely without guidance, and used the concurrent think aloud method.
Insights

Onboarding
During the instructional onboarding screens users didn't understand that the button was a button, so I added text and made it more prominent.
Add to cart
User needed more reassurance that the action was successful after adding something to cart, so I added a pop-up to give them better system feedback.
Checkout
When checking out, being met with 'Enter address' confused users, because it might indicate delivery only. So I changed the first screen to ask if they want something delivered or if they want to pick it up.
The calendar
in the checkout was confusing to all, so instead I made it to show all dates in the month, and used a time picker people would be familiar with.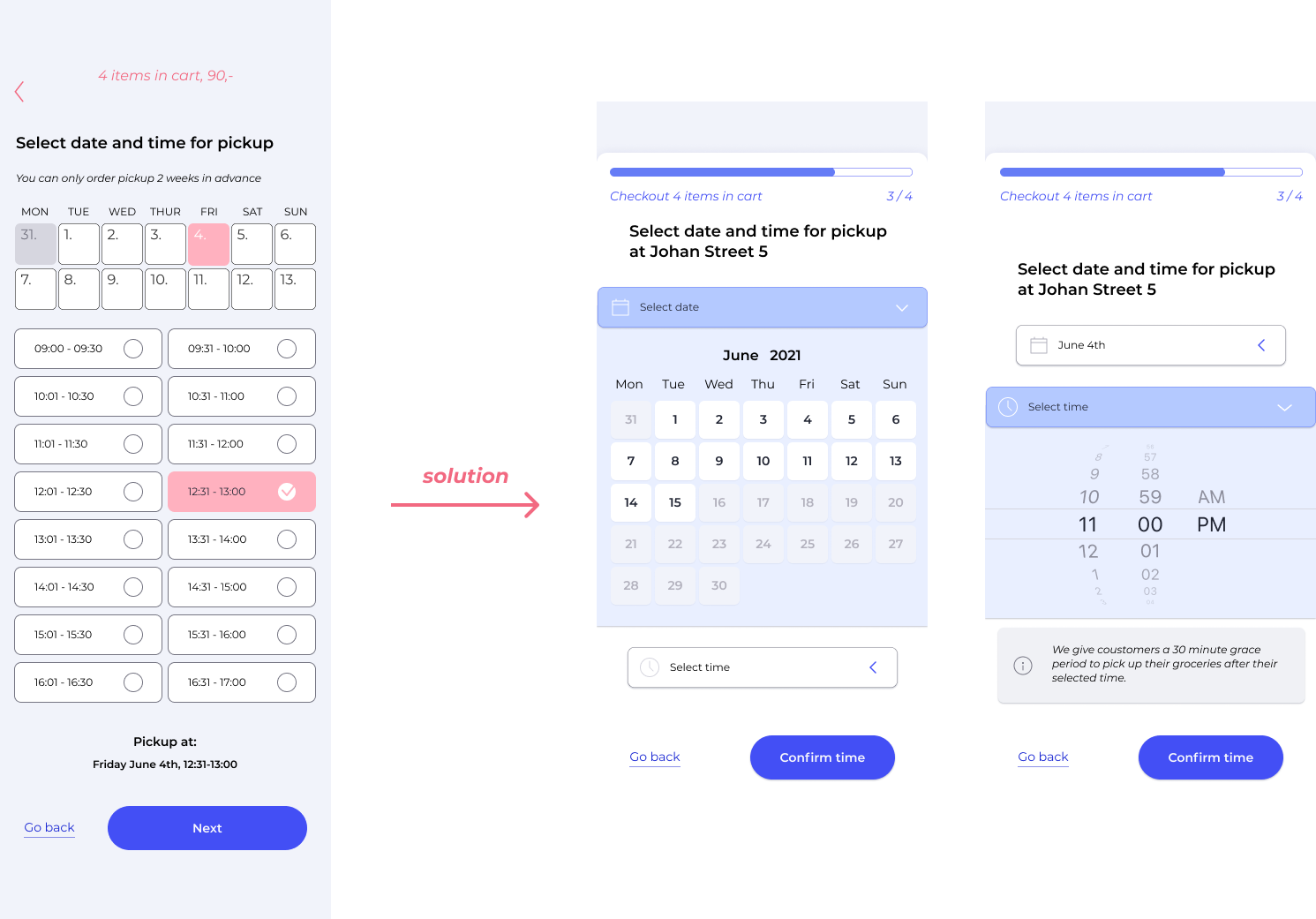 When finishing the checkout, users were confused what to do next and if their order was saved in the app, so i added reassurance in the wording.
Reflections

With the final result, customers of A. Food Market is able to easily order the groceries they need, contactless, without huge expenses.

If I had more time on this project I would work more on the categorization of products, and conduct a card sort with users.

I would also work on expanding the recipe feature, because it would be a way to encourage customers to explore more of the food in the store.